Electricity for Hospitals, Clinics & Medical Facilities
Easily compare commercial electricity rates for your medical facility.
Energy Consumption in Healthcare Facilities
Energy consumption in healthcare facilities is a big part of your medical practice overhead expenses.
According to the EIA, ventilation, cooling and lighting drive most electricity use in hospitals.
Cooling & Ventilation: 40% of electricity usage in hospitals
Lighting: 16% of electricity usage in hospitals
Computing & Office: 14% of electricity usage in hospitals
Refrigeration: 6% of electricity usage in hospitals.
Electricity usage in hospitals varies by square foot and type of facility. Energy efficiency is one way to lower your hospital electricity bill.
But if you are in a deregulated electricity market, you can also shop for a competitive electricity rate from a supplier.
Get a custom quote on electricity for your clinic, hospital or other medical building. Or call us at 844-214-5559. We can help you shop electricity companies in deregulated markets to get the best rates.
Electricity Savings for Hospitals, Clinics and Medical Facilities
Hospital energy savings for electricity focus on three areas: (1) reduced consumption, (2) reduced demand charges and (3) getting the best commercial electricity price.
You can reduce your consumption through energy efficiency best practices. Your demand charges can be lowered by evaluating peak demand days and coincident peak management.
But the fastest and most immediate way to cut your hospital electricity bills? Is to negotiate a lower price per kilowatt hour for your hospital, clinic or medical facility.
In deregulated electricity markets, you can negotiate with electricity suppliers to get custom quotes and the best rates. Or work with an energy broker to more easily evaluate fixed rate, block and index or managed energy rates to get the lowest cost.
Our team of energy experts has worked with some of the nation's largest healthcare systems, regional hospitals, research facilities, veterinary clinics, private emergency rooms, blood centers, and more.
We can work with you to find the best electricity rates for your facility.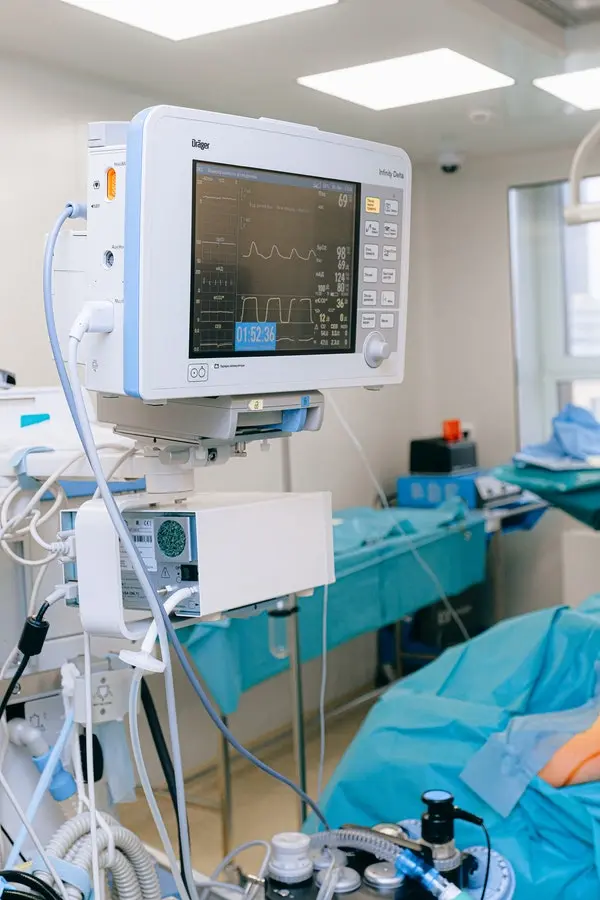 How Much Electricity Does a Healthcare Facility Use?
Electricity usage in healthcare facilities varies dramatically by the size and use of the building. Other factors that come into play include the age of the facility and its geographic location.
The Energy Information Administration (EIA) produces a national building survey every four years that can help with benchmarking healthcare energy consumption.
According to the Commercial Buildings Energy Consumption Survey (CBECS) this is the amount of electricity a typical healthcare facility uses:
Inpatient Health Care Facilities / Hospitals average 247,000 square feet and use 31 kWh per square foot.
Outpatient Health Care Facilities average 12,100 square feet and use 18.7 kWh per square foot
Clinics or Other Outpatient Healthcare average 14,600 square feet and use 19.8 kWh per square foot
Diagnostic Outpatient Facilities average 8,500 square feet and use 16 kWh per square foot
Medical Office Buildings (without diagnostic equipment) average 6,000 sf and use 14.3 kWh per square foot
One growing area of healthcare is the Freestanding Emergency Room and Urgent Care Locations. These are not broken out in the EIA CECS survey. However, we can make some assumptions based on square footage and equipment:
Urgent Care Clinics average 3,000 square feet and have limited diagnostic equipment, putting them in the category of a medical office building that uses 14.3 kWh per square foot.
Freestanding Emergency Rooms are typically 8,000 square feet, with CT, Ultrasound and lab equipment, putting them in the category of an outpatient health care facility that uses 18.7 kWh per square foot.*
You can benchmark your general medical or surgical facility's energy usage with the EnergyStar Score for Hospitals. For other medical facilities you can benchmark energy use with the Energy Star Portfolio Manager tool.
To reduce your electricity spend, you can also shop to get the best electricity rate for your medical facility.
FAQ: What is the Monthly Average Hospital Electric Bill ?
According to the Department of Energy's Commercial Buildings Energy Consumption Survey, the average inpatient hospital facility in the US is 247,000 square feet and uses 31 kWh per square foot.

The average commercial electricity rate in the US is 11.33 cents per kWh (EIA November 2021).

That makes the average monthly electricity bill for a hospital around $72,295.

Healthcare facilities like hospitals, freestanding ERs, clinics and medical offices can reduce their electricity bill through energy efficiency, peak demand management and, in deregulated markets, shopping for electricity rates.
Energy Challenges for Hospitals and Clinics
Hospitals, clinics and medical facilities are facing energy challenges from a variety of areas. Cost control is critical to keeping operating costs low. Back up systems need to be reliable. And your ESG strategy needs to keep pace with climate change resolutions. Our team of energy experts can help you with these issues, in addition to energy procurement.
Cost Control
Energy conservation in hospitals is one way to keep costs low. But what about the overall rate for electricity?
If you're in a deregulated electricity market like Texas, Ohio, New York or Pennsylvania, you can shop for the best electricity rate for your healthcare facility.
We can support you with energy budgeting, plus energy efficiency review and planning.
Reliability
Resiliancy and back-up plans need to be part of your healthcare facilities management plans.
You may want to invest in dual fuel options for backup generation.
An on-site generator can help you maintain your hospital electricity service no matter the conditions you are operating in.
ESG Strategy
Your hospitals environmental, social and governance strategy needs to match community expectations.
What role will sustainability play in your medical facility's energy procurement strategy? How can energy efficiency help you achieve that goal?
And what role can renewable energy, microgrids and power purchase agreements play in your energy procurement?
Reducing Electricity Usage in Hospitals, Clinics and Medical Office Buildings
If you want to reduce the electricity bill for your hospital, clinic or medical office buildings, here are 7 ways to cut consumption.
Energy Audit. Invest in an energy audit to understand your current consumption and find efficiency opportunities.
Demand. Coincident peak management, lowering your demand when overall demand systemwide is at its highest, can lower your bill for the next year.
HVAC. Regular maintenance for your HVAC system can keep costs down. Your facilities engineers should also ensure air flow is optimized across the system.
Automate. Use automated settings to reduce heating and cooling in unoccupied spaces. Install occupancy sensors in bathrooms.
Lighting. Upgrade your lighting system to make use of low energy solutions.
Windows. Multi-layer glass windows should be standard in your facility.
Natural Lighting. When designing new facilities, make use of skylights and atriums for natural light.
The American Society of Health Care Engineering (ASHE) Energy to Care program offers facility managers a toolkit with low cost energy efficiency ideas for healthcare facilities.
Contact an energy advisor today to discuss an energy audit, budget review or electricity procurement.
*Source: VMGHealth.com